Kit de survie
FAITES DÉFERLER LA VAGUE BANDCOCHON À LA RÉUNION !
VOUS AIMEZ BANDCOCHON ET VOUS ÊTES D'ACCORD QU'IL FAUT QUE LA SITUATION CHANGE ?
Faites-le savoir : Via un autocollant ou un t-shirt !
COMMENT FAIRE ?
AUTOCOLLANT :
Soit vous imprimez en couleur sur du simple papier ou si cela vous est possible, vous achetez du papier auto-collant à imprimer : on en trouve un peu partout et sur Internet on en a trouvé à 10 euros pour 25 feuilles A4.
T-SHIRT :
Vous imprimez le grand PDF sur du papier transfert pour ensuite l'apposer sur un t-shirt. On trouve du papier transfert dans certaines grandes surfaces ou sur Internet.
Nous vous proposons 2 versions : le modèle unique + grand (pour notamment les t-shirts) ou la page avec 6 autocollants
BANDCOCHON VOUS RAPPELLE QUE CES PDF SONT MIS GRATUITEMENT À VOTRE DISPOSITION ET QU'IL EST INTERDIT DE FAIRE DU COMMERCE À PARTIR DES IMPRESSIONS PUISQU'ELLES SONT SOUS CREATIVE COMMON.
Modèle 1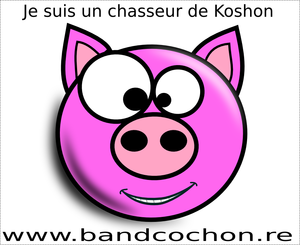 Version PDF | Version PDF 6 sur une page
Modèle 2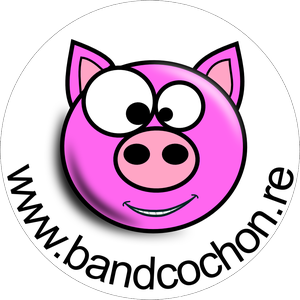 Version PDF | Version 6 sur une page
App mobile
Prenez vos photos directement depuis notre application mobile pour les diffuser instantanément sur Band Cochon

Follow us on Band Cochonbook
The first social network dedicated to the fight against polluters
Who is online?
Hunters
Visitors
Visitors country
Do you like us?
Faites le savoir !
Last five comments
---
aulet
On April 4, 2020, 4:13 a.m.

Rapport du samedi 04 avril 2020

pour la semaine du 2020/03/28 au 2020/04/04


Compte rendu

bonjour
confinement oblige
seuleument 4 …
---
Wild974
On April 3, 2020, 9:46 a.m.

C'est du lourd là !
---
Wild974
On April 3, 2020, 9:37 a.m.

La dodo lé la !
---
Wild974
On March 31, 2020, 11:36 a.m.

Idem que Yan, il y a freedom pour dénoncer les problèmes de confinement ! C'est pas le but du site …